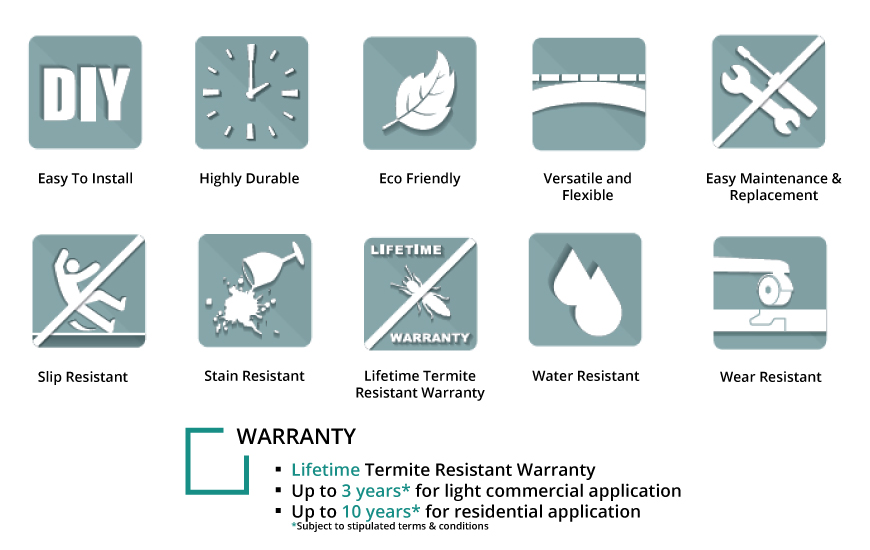 Rigid Core Click Flooring
| | |
| --- | --- |
| Series | Wood Series |
| Coating | UV coated with Ceramic Bead & Crystal Coating |
| Thickness | 5.5mm (1.5mm Virgin Vinyl + 4mm Core) |
| Wear Layer | 0.3mm |
| Edge | Micro – Bevelling (2V) |
| Dimension | 173mm x 1210mm |
| Packaging | 10 pcs (22.53 sqft) |
Installation Method Click Locking System
 Teraflor Premium vinyl floor click locking system is a floating floor system with glue less installation.
Must be stored in the room for 24 hours acclamation period prior to installation.
During installation, planks from several boxes should be mixed. Always check panels for defect before install them. Any claim of damages is not accepted for planks that have been already installed.
Teraflor Premium floor panel shall be assembled by tilting the tongue side with approximately 30-degree slotting into the groove without the use of adhesive.
5mm expansion gap is to be allowed towards the wall and breaking point between one area from another area e.g. living hall & bedrooms. It is compulsory to allocate a breaking joint on any area with more than 10-meter length or width. Proper skirting and floor profile shall be installed at the wall and breaking join accordingly.
Important notice Click Locking System:
Due to the principle of floating installation method, it is strictly prohibited to affix any fixtures or fitting onto the sub-floor that would deter the required expansion.
Cleaning and Care for Domestic Use
Direct sunlight, extreme solar irradiation, hotness and strong temperature  changes can cause damages to the floor such as discolouration and material distortions.
Remove dust and dirt with vacuum cleaner (no beater bar vacuum), broom or dust-absorbent cloth.
In the event of light dirtying, you should dry mop the floor with a well-wrung mop, use water sparingly.
Do not use any form of cloth mop, as this spread large amount of water on the floor. Use only clear mopping water without additives, or water with vinyl cleaner. After mopping the floor with the clean cloth, dry thoroughly. You should clean up any puddles of water.
Tough stains such as paint, glue, oil, etc. can be removed easily with turpentine but not thinner.
Preventive Measures
Protect flooring surface with felt pads under furniture legs.
Use chair rollers that are suitable for vinyl floorings such as soft rollers, non-mark rollers etc.
In case of external doors make sure that you have a sufficiently large protective doormat to keep away coarse dirt, grit and stones.